Southeast Asia's rapid growth has led to a rise in income which enables its citizens to enjoy leisure travel in the form of long-haul destinations and micro-trips. The region's budget travel market, including low-cost flights, is also expected to grow exponentially. The rise of low-cost airlines and the growing affluent middle class in the region has changed the landscape of the tourism industry immensely. 
According to a report released by the World Travel & Tourism Council, Southeast Asia's travel and tourism sector in 2018 garnered US$373 billion in total gross domestic product (GDP) contribution. 
Technology too plays a significant role in the advancement of the travel industry, where more tourists are making their bookings online. They often look for a combination of perks and deals when booking online for hotels. Travel agencies are dependent on online booking platforms as they provide data management, online transactions and timely customer services. At the end of 2017, online travel bookings accounted for 37 percent of all bookings in Asia Pacific, and Indonesia is currently the fastest growing online bookings market.
Booking platforms or online travel agents (OTA) not only redirect tourists to hotels offering the best deals but also does the same for airlines, cars rental companies and other travel related services. OTA is an all-in-one platform providing real-time availability and price comparison information to consumers. Metasearch engines are allowing tourists to compare prices across OTAs to find the best possible deals. 
According to a 2017 Meltwater Report on Digital Disruption of the Hospitality Industry, Southeast Asia's online travel spend is expected to reach US$76 billion by 2025. The leading OTA in Thailand and Vietnam is Agoda, while Expedia tops the list of OTAs in Singapore. For OTAs, affordability is usually their main selling point. 
Online travel disruptors
In today's digital world, disruption is inevitable. An all-in-one platform site makes it easy for tourists to acquire vast information on hotels, restaurants, and read guest reviews which enables them to make better decisions when choosing their place for travel. OTAs like Agoda and Expedia have given consumers the power to get better deals as opposed to booking directly with hotels.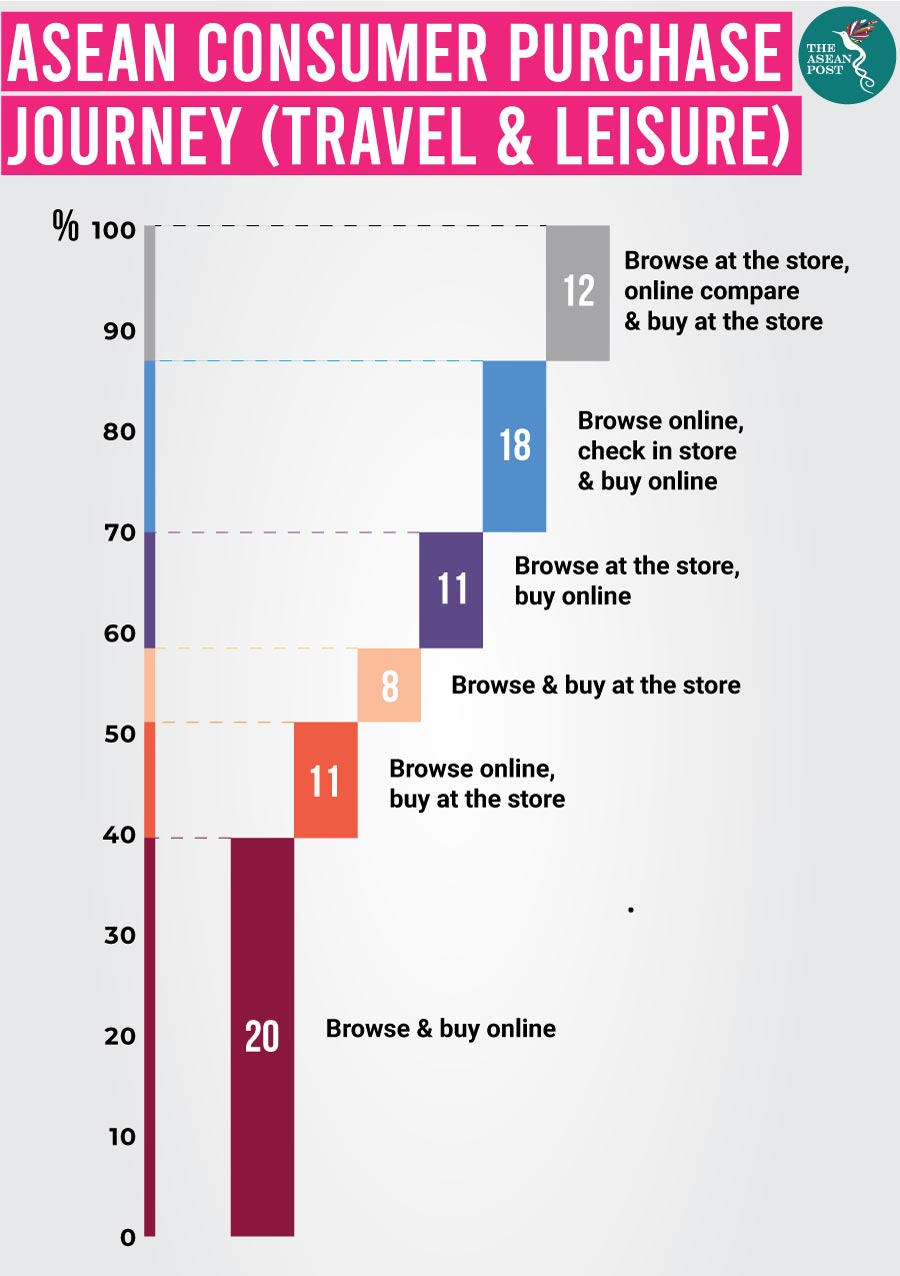 Source: HKTDC Research, 2017
Southeast Asia's travel unicorn start-up, Traveloka, is a leading travel and lifestyle booking platform. Traveloka's selling point goes beyond just offering competitive airfare and hotel room rates, but also providing the ultimate booking experience to its users with flexible payment options to boot. With more than 40 million active users across Southeast Asia, Traveloka's users can explore thousands of travel products and activities. 
Traveloka's new service, 'Xperience', recently launched in Vietnam, offers a comprehensive range of options such as attractions, entertainment and short tour packages, reducing the hassle for tourists. This easy-to-use platform promises tourists new and unique experiences and include spa packages and favourite local activities. 
A trip to the neighbourhood mall today counts as a journey, and Traveloka wants to cash in on these trips as well. "Our definition of travel has shifted," said Traveloka's chief marketing officer, Dannis Muhammad, whose company is now offering restaurant vouchers and special dining deals for users in Indonesian cities. In Jakarta, 80 percent of tenants offering services or lifestyle products are now bookable on Traveloka. 
Brands that build their services to connect tourists to their immediate surroundings and people rather than just providing digital connectivity will fare much better as travelling trends change. 
Another disruptor competing in the online travel space is coming from an unlikely source – Southeast Asia's biggest low-cost carrier, AirAsia. The airline's CEO, Tony Fernandes says that the company's future lies in being "more than just an airline." Planning to monetise on AirAsia.com's 65 million monthly active users, the company has relaunched its website and apps to now offer hotel bookings and other perks such as tours. 
AirAsia is betting on its existing customers, data and network to venture into the online booking platform. "Now we're going to be bloody awesome at selling hotels, holidays, et cetera. And we will be doing some cool things with AI, machine learning and voice that no other OTA has done. We are developing a smart travel planner for customers." Tony told Raini Hamdi of Skift. 
Airlines and start-ups are giving traditional OTAs like Expedia some competition, but newer threats are coming from gatekeepers like Google. Although Google controls the flow of traffic into OTA sites, the travel booking ecosystem is a tangled web of co-dependency. The OTAs need Google to send them traffic and Google relies on the OTAs for advertising dollars. 
Advancement in technology is changing the landscape of travel and tourism drastically. Bookings can be done immediately, with less preparation time and with a variety of choices to choose from. Price comparison across platforms also guarantees an economical trip and artificial intelligence (AI) in the form of chatbots provide on-demand 'human' assistance.
The readily available information, fast booking process and different categories of entertainment and attractions to choose from, will change the focus to more unique experiences with personalised travel. 
Related articles:
Digital nomads are coming to an area near you
Southeast Asian hotel booking platforms are getting more creative