Due to Southeast Asia's largely unbanked and underbanked populations, the region has a growing fintech ecosystem which provides innovative services such as loans and payment platforms. Fintech fosters a financial inclusion strategy that can reduce the growing wealth gap and provide the poor with critical resources.
A 2019 study by ValueChampion, a Singapore-based personal finance and consumer research brand, placed Singapore second after Australia as the 'Best countries for women in fintech in Asia-Pacific'. The study ranked countries based on the climate opportunity for women's advancement, prioritising nations that have strong fintech markets but also closer to gender equality. Malaysia ranks fourth, while Thailand, Indonesia and Vietnam rank seventh, eighth and ninth, respectively. Each country was also ranked by subcategory of business climate, existing gender gap, women's safety and fintech salary, among others. The research company noted that the limited data available on women in fintech makes a thorough analysis difficult. 
Climate of opportunity
Singapore is a hotbed for fintech innovation, with the highest number of fintech start-ups per capita. According to the latest research by Accenture, which analysed data from CB Insights, a global venture-finance data and analytics firm, Singapore received US$453 million in fintech investments in the first half of 2019. 
Ranked second, Singapore has a positive environment for women in general. Over the past few years, the gender gap has decreased, reflected in the unopposed election of the nation's first female president – Halimah Yacob – in 2017. However, Singapore's gender wage gap increased substantially in 2018, with the widest disparity recorded in the financial and insurance industries.
Malaysia's moderately strong fintech market also provides some opportunities for female advancement in an affordable setting. In 2017, the Digital Free Trade Zone (DFTZ) initiative was launched by the Malaysia External Trade Development Corporation (MATRADE) to grow the nation's internet economy and to facilitate cross-border e-commerce.
Malaysia also offers a reasonably supportive environment for women looking to succeed in their careers. The World Economic Forum (WEF) states that its gender gap rating has improved over the past year and that 68 percent of the overall gap has been closed. Malaysia also has the highest representation of women in top positions (33 percent) based on 2019 data compiled by Bloomberg on the three largest banks in the Southeast Asian country.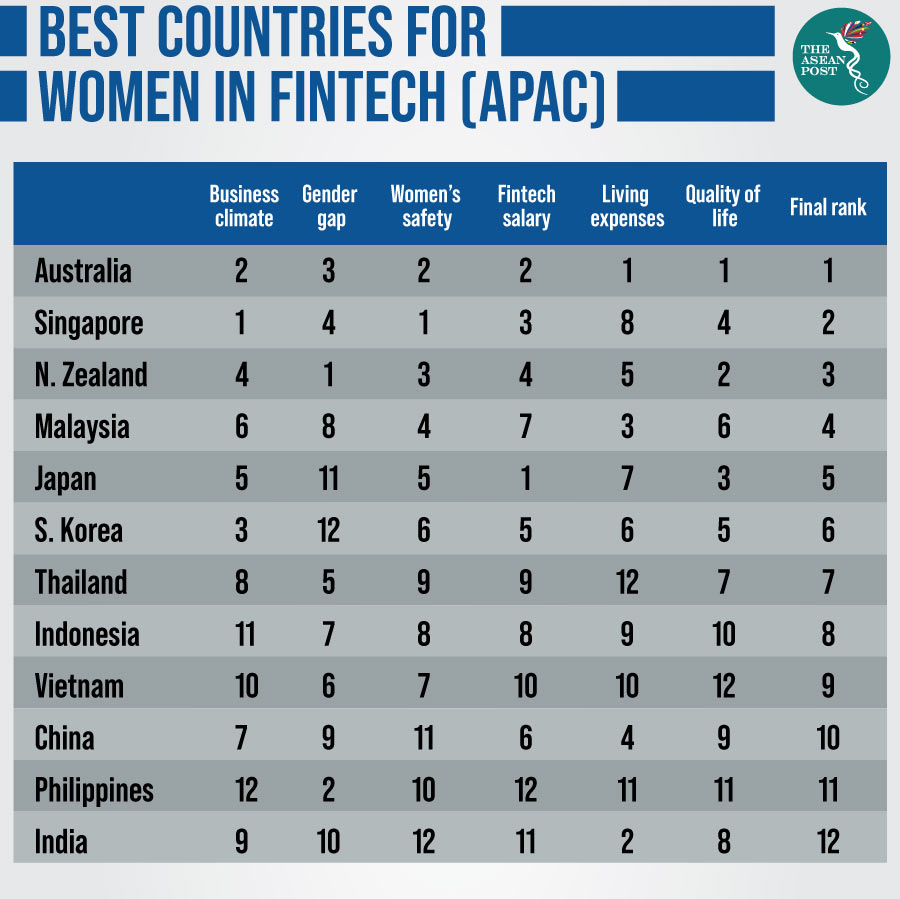 Source: ValueChampion, 2019
According to WEF's 'Global Gender Gap Report in 2018', Vietnam is among the top 25 countries in the world when it comes to closing the labour force gender gap. Efforts have been made to tap women's potential by improving the business environment and giving them control over their finances, such as the 'Mobile Banking – Financial Inclusion and Economic Empowerment for Low-Income People and Women in Vietnam' project launched recently by the Vietnam Bank for Social Policies.
There is an increasing number of women making inroads into fintech, but the growing fintech sector in the region is not always accessible to females seeking professional advancement. Fintech is still a difficult market for women to break into. According to the Ernst & Young 'ASEAN FinTech Census 2018', 86 percent of all fintech organisations still have all-male founders. 
Support more women
There is an emergence of prominent funds focused on supporting ventures by women in fintech globally. Recently, the United Nations Capital Development Fund (UNCDF) – in collaboration with the United Nations Economic and Social Commission for Asia and the Pacific (UNESCAP) – launched an Innovation Fund on digital solutions for micro, small, and medium-sized enterprises (MSME) in the Asia-Pacific region. The fund seeks to improve access to finance, removing barriers to scale and enhancing the operational efficiency of women-led MSMEs. The initiative is expected to benefit 20,000 women entrepreneurs in six countries across the region.
"Women-owned micro, small and medium enterprises have the greatest potential to benefit from ICT as these technologies can help them overcome the typical barriers to expansion and growth," said Hongjoo Hahm, officer-in-charge of ESCAP. 
Miss Kaya is a financial platform built by women for women, founded by entrepreneur, Gina Heng. The platform allows women to receive guidance on their savings and investments. 
"At Miss Kaya, we want to be there to encourage and support more women entrepreneurs to develop and grow their ideas. I know first-hand how challenging the process can be, but if we can create a supportive community and share resources and networks, the chances of success are higher. We are happy to partner with LATTICE80 to begin this journey," said Heng. 
In 2018, Miss Kaya and LATTICE80 announced the launch of an accelerator programme for women entrepreneurs to support women-led businesses. Their collaboration led to the release of a list of the top 100 women in fintech around the world in 2019. 
Among the international names on the list were Dr Ayesha Khanna, who is co-founder and CEO of ADDO AI, an artificial intelligence (AI) solutions firm and incubator in Singapore. Dr Khanna was named Singapore's leading female entrepreneur and a leading Asian fintech influencer by Fintech Asia. Her company is currently incubating three start-ups.
It should be noted that persistent gender biases, whether intentionally or unintentionally, still exist. Although the region's fintech industry is relatively strong, it doesn't mean it's equally accessible to both genders. More needs to be done to ensure women are allowed to rise through the ranks, lead teams, start companies and decide on industry policy.
Related articles:
A hotbed for fintech activities
Women can make banks more profitable